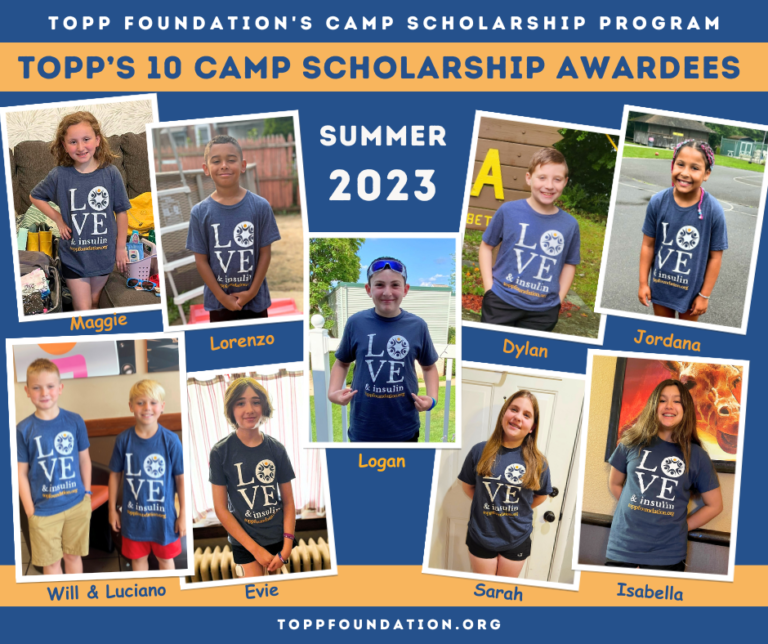 The TOPP Foundation Camp Scholarship Program enhances the quality of life for youth living with type 1 diabetes (T1D) by providing financial assistance for specialized diabetes summer camps. This scholarship program is for children and teens who would like to attend Camp Freedom, located at Camp Kweebec in Schwenksville, PA or Camp Nejeda, located in Newton, NJ.
 Children & teens with T1D are often unable to attend overnight camp because the disease requires 24-hour attention. Specialized residential diabetes camps provide necessary medical attention and offer a unique opportunity for children and teens to attend camp with other kids who also have T1D. For some children it may be the first time they meet another child with the same condition. To someone with T1D, this can be life changing and helps them realize they are not alone with the disease.
 Also, because experts are onsite 24 hours a day to provide medical care, T1D camp is often the first-time parents feel comfortable leaving their child in a place away from home. Knowing their child will be in a safe environment allows parents and/or caregivers a much-needed respite from diabetes-related worries.
 TOPP gave out a total of ten camp scholarships in 2023! Eight scholarships went to campers attending Camp Freedom and two scholarships went to campers attending Camp Nejeda.
 Between 2018-2023, this program has awarded twenty-one camp scholarships to children and teens with T1D!
 Please check back in early 2024 for the 2024 Camp Scholarship Application.