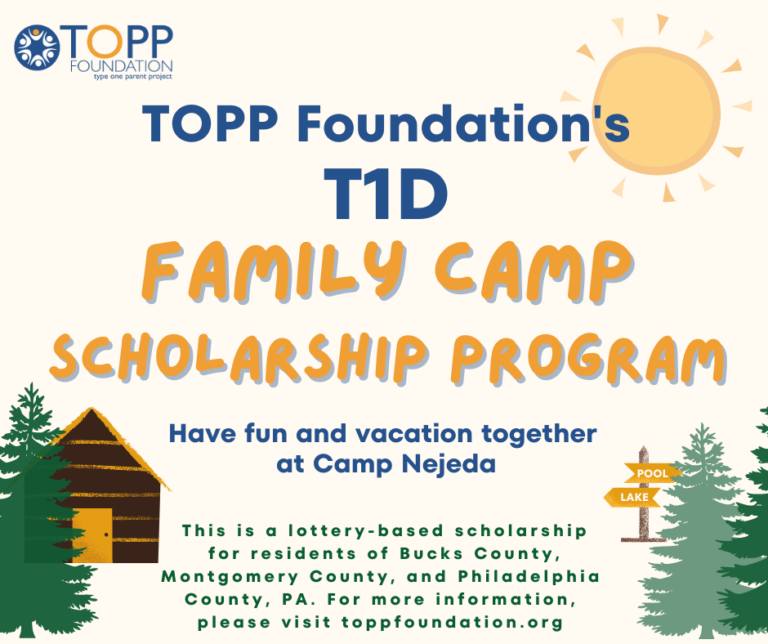 TOPP Foundation provides scholarships to Camp Nejeda's Family Camp because of the positive impact and fun experiences that these camps offer families living with type one diabetes.
 TOPP Foundation is excited to announce a new scholarship program to support T1D families with younger children who would like to attend a Family Camp weekend at Camp Nejeda. In 2023, TOPP will have four scholarships available for Family Camp.
 Type 1 diabetes affects every member of the family, presents daily challenges, and can be emotional and stressful. Family Camp at Camp Nejeda is an enjoyable mini vacation and a great way to have fun quality time together and connect with other T1D families. At Family Camp, lots of fun, family-friendly camp activities are supplemented with opportunities for parents, kids, and siblings to meet and talk with other families who share their unique challenges. It can be a positive experience for every member of the family and help them realize they are not alone with the disease. These weekends are a great introduction to the Camp Nejeda experience for younger children, newly diagnosed children, and children who don't feel ready to attend summer camp on their own. Attending Family Camp also provides a peek into camp life for parents and siblings.
 It is our belief that all T1D families deserve the opportunity to experience a fun getaway with others who truly understand the impact Type 1 Diabetes has on the entire family. TOPP will be awarding aid scholarships for Family Camp at Camp Nejeda to T1D families from Bucks County, Montgomery County, and Philadelphia County, PA. The scholarship amount of $500 will help defray the cost of tuition. All eligible families will be entered into a lottery drawing and have an equal chance of winning.
 The application window for TOPP's Family Camp Scholarship Program is February 15th to April 30th, 2023.