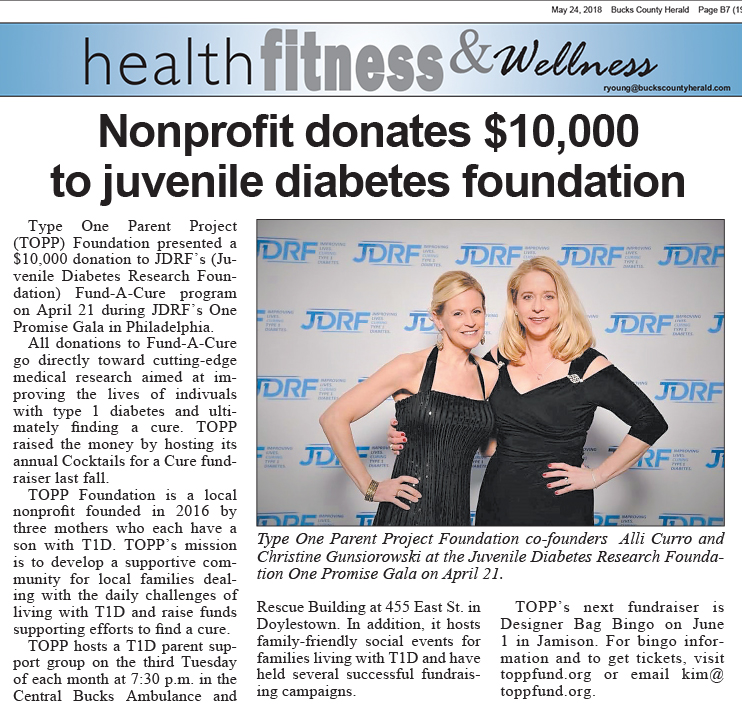 Type One Parent Project (TOPP) Foundation presented a $10,000 donation to JDRF's (Juvenile Diabetes Research Foundation) Fund-A-Cure program on April 21 during JDRF's One Promise Gala in Philadelphia. All donations to Fund-A-Cure go directly toward cutting-edge
medical research aimed at improving the lives of indivuals with type 1 diabetes and ultimately finding a cure. TOPP raised the money by hosting its annual Cocktails for a Cure fundraiser last fall.
TOPP Foundation is a local nonprofit founded in 2016 by three mothers who each have a  son with T1D. TOPP's mission is to develop a supportive community for local families dealing with the daily challenges of living with T1D and raise funds supporting efforts to find a cure.
TOPP hosts a T1D parent support group on the third Tuesday of each month at 7:30 p.m. in the Central Bucks Ambulance and Rescue Building at 455 East St. in Doylestown. In addition, it hosts family-friendly social events for families living with T1D and have
held several successful fundraising campaigns.
TOPP's next fundraiser is Designer Bag Bingo on June 1 in Jamison.